Faith Groups on Campus
---
Baha'i Club
Dr. Sheri Dressler
407.312.5554
sheri.dressler@ucf.edu
www.bahai.org
The Baha'i Club provides prayer, study, social, and service activities on campus for all students who are interested in learning about and promoting the principles of the Baha'i Faith. These activities include the study of Baha'i scriptures and its application to daily life, activities supporting Baha'i social principles such as unity in diversity and the elimination of all forms of prejudice, the equality of men and women, the compatibility of science and religion, and the assurance of world peace. There are also meetings for fellowship, counseling services, and opportunities to take part in service projects locally, nationally and internationally.
BCM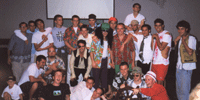 Brad Crawford, Director
407.823.5336
BCM Email
BCM Linktree
BCM Website
BCM Instagram
During the year we meet on Thursdays at 7:30 pm. Most weeks we are in the Student Union, 3rd floor Cape Florida Ballroom, but for the latest location information, check our website at http://ucfbcm.com.
Baptist Collegiate Ministries at UCF is an organization devoted to building meaningful relationships and growing in Christ through evangelism, service, worship, bible studies, missions, intramural sports, fellowships, and more. BCM is sponsored by the Southern Baptist Convention, but there are many students in BCM who come from different denominations and religious backgrounds. All are welcome!
Catholic Campus Ministry (CCM) at UCF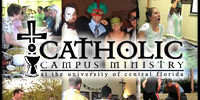 Br. Adam Neri
Br. John McCabe
3925 Lockwood Blvd
Oviedo Fl, 32765
info@ccmknights.com
www.ccmknights.com
Find us on Facebook! Catholic Campus Ministry at UCF
Catholic Center (407.392.0824), located at NorthView
CCM provide students and members of the university community a home where they can strengthen their faith, discern God's call, and grow into passionate Catholic leaders.
SUNDAY MASS:
Join hundreds of other college students for Sunday Mass every week at 5pm, at the Catholic Center, all are welcome (dates for Mass during the Summer may vary-please check website for info)
There are many opportunities to get involved! Some of the weekly events include: Bible Studies, Tuesday Mass & free Meal, Wednesday Knight Fire (praise & worship, guest speakers, skits, small groups, ect… each week the theme is different & always fun), and Men's Group & Women's Group. Other events that take place are Service Events & Mission Trips, Music Ministry, IM Sports teams, Retreats, Pro-Life Ministry, Socials, & more!
Visit our website www.CCMknights.com or stop by the Catholic Center located at Northview for more info!
Chabad Jewish Student Group
Rabbi Chaim Lipskier
Chabad Center located at 3144 North Alafaya Trail
Orlando, FL 32826
407.949.8838
Info@Jewish.UCF.com
www.JewishUCF.com
Mission:
With the vision to open the door of Judaism to all Jewish students and faculty on the UCF campus, we have established The Chabad House, a place where Jews of all backgrounds and degrees of observance can enjoy exploring their Jewish heritage in a warm, welcoming and non-judgmental environment. With both an active student organization and Jewish chaplain status, Chabad is committed to try and reach every Jew.
Meetings:
Chillin' 'n' Grillin' – 6:30pm (every Tuesday) – Hot Kosher Dinner and Social Time
Friday Night Live – 7:30pm (every Friday) – Jewish Service Followed by a four course dinner
Chi Alpha Christian Fellowship

Taylor Kroeller, Director
Phone: 757-651-4244
Email: xaatucf@gmail.com
Chi Alpha Instagram
Knight Connect
www.xaatucf.com
Chi Alpha Facebook Page
Worship Meetings: Tuesdays at 7:30 p.m. in the Magnolia Room in the Live Oak Building. Other activities include weekly cell groups/Bible studies, fellowship activities, outreaches, mission trips, service projects, prayer meetings, retreats, conferences, leadership training, and more!
Chi Alpha is part of a national ministry, Chi Alpha Campus Ministries (http://www.chialpha.com/), which has been existence since 1953 and is on over 300 campuses nationwide and around the world. We are a ministry of the Assemblies of God, but our students come from a variety of church backgrounds.
We invite you to join our loving community as we seek to authentically live out our faith on campus, in the community and around the world.
Cru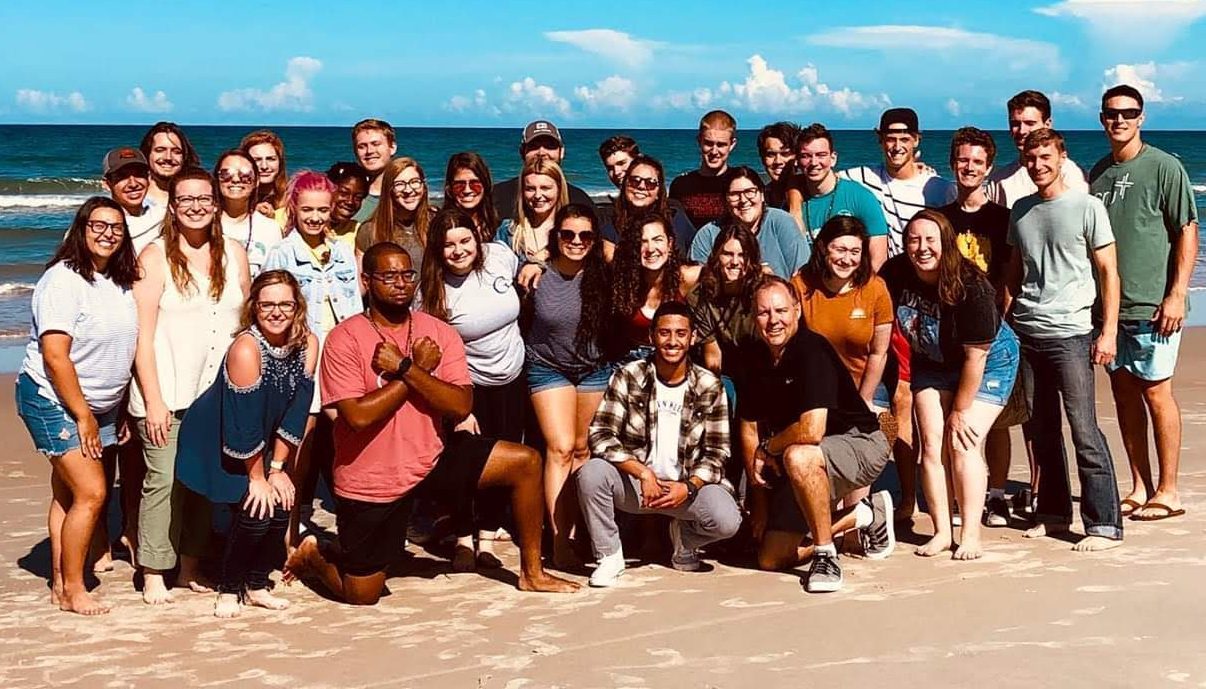 Eric Pederson, Team Leader
Email cruatucf@gmail.com
www.cruatucf.com
Knight Connect
We are known as Cru at UCF. We desire to foster a loving community of students who are passionate about knowing Jesus and making Him known. We are a student movement that here to build relationships and create environments where you can experience the life and message of Jesus.
Cru Thursdays: Join us at our weekly meetings every Thursday at 8:30pm! Everyone is free to join no matter where they are spiritually. Check out our Linktree or our social media to see updated meeting locations each semester.
Community Groups: These smaller group settings will give you an opportunity to make lifelong friendships and have meaningful discussion about faith. Times, days, and locations vary, so check out our Linktree or our social media to find a group that fits your schedule!
Check out our following pages for tons of ways to get involved:
http://www.facebook.com/cruatucf
Follow us on Instagram: @cruatucf
Our Linktree: Linktree
Destino at UCF
Kenneth Ramirez Dyches, Team Leader
kenneth.dyches@cru.org
Connect on Facebook
Destino at UCF is part of the larger Destino familia in Central Florida and nationwide. We are students, faculty, and members of the community who follow Jesus and seek our God-given destiny together. On campus, we are raising up a generation of Hispanic and Latino leaders who love Jesus and will change the world. We do this through valuing faith, growth, and fruitfulness in a compassionate community that is culturally connected, academically achieving, financially responsible, and empowered spiritually. All are welcome!
Every Nation Campus (ENC)
Every Nation Campus (ENC) is a church-based campus ministry that exists in over 80 nations around the world. We are multi-cultural, multi-ethnic, and we exist to honor God, love life, and make disciples. We have weekly services with a message and worship, life groups all throughout the week, and fun hangouts all year long! To find out more information on our meeting time and location, please refer to our Instagram
@ENC_UCF
 or email Stephanie Eiserman at
Stephanie.Eiserman@LakeMaryChurch.com
Faculty Commons
john.karraker@cru.org
facultycommons-ucf.org
Central Florida Hillel

Mailing address: 3925 Lockwood Blvd.
Oviedo, FL 32765
407.382.2658
info@centralfloridahillel.org
http://www.CentralFloridaHillel.org
Central Florida Hillel is the foundation from which a student journeys to become their ultimate self. The University of Central Florida has the third largest and fastest growing Jewish collegiate population outside of the State of Israel, and Central Florida Hillel offers engaging and meaningful programmatic opportunities that connect our students to each other, to their schools, and to the greater Jewish community. Central Florida Hillel is a catalyst for transformational growth as an individual and as a Jew
H2O College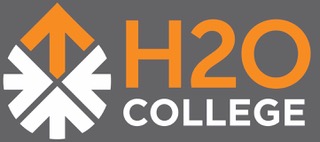 H2O College is a non-demoninational group of de-churched, un-churched, spiritually curious and Jesus following UCF students that meet together weekly. Some of us have Christian backgrounds while others are just checking out Christianity. Our goal is to provide a welcoming environment where you can ask tough questions, discuss important topics and learn about God and grow deeply in your walk with Christ.
We desire to help students become servant leaders while giving them tools to grow spiritually, relationally and academically. We are members of the Collegiate Church Network nationally and a member of the H2O Network of college ministries.
Sunday Service Teaching & Worship
In addition to the teaching we offer on Thursday nights we also offer a Sunday Morning Worship Service with our sponsoring church, H2O Church Orlando located in Downtown Orlando. (www.h2ochurch.org)
In light of Covid this Sunday service is online also at the following link…https://www.facebook.com/H2OChurchOrlando/
…just LIKE the H2O Church Orlando FB page and you'll be notified when the service goes live EVERY SUNDAY at 10:15am.
Thursday Night ZOOM Gathering
To honor the Covid guidelines we are meeting virtually on Thursday nights at the following Zoom link…https://ucf.zoom.us/j/107147024#success
(Normally we meet in Room 220 of the UCF Student Union but for now will be utilizing zoom calls for our Thursday night gathering)
Small Group Bible Studies & Discussion Groups
Our smaller group Men's and Women's Bible studies take place in various locations across campus while following the Covid guidelines.
Fall Retreat, Spring Break Mission Trips & Summer Leadership Training
We host our H2O College UCF Fall Retreat each year @ Camp Thunderbird here in Orlando as well as partnerning with other H2O College groups for yearly Spring Break trips. Additionally, we offer our Summer Leadership Training Projects in Estes Park Colorado, Myrtle Beach SC and upstate New York. Each LT is designed to help students become leaders of character and integrity and to deepen their faith in Christ while working full time and meeting students from all over the country.
CONTACT US: Jim Poorman UCF Campus Director email: jim@h2ochurch.org
IgKnight
Tyler and Molly Owens, Ministry Leaders
http://orlandochurchofchrist.com/campus.html
Intervarsity Christian Fellowship

Josh Carpenter
joshua.carpenter@intervarsity.org
www.ivucf.com
InterVarsity is a multi-ethnic, inter-denominational campus ministry that has been around since the 40's. We exist to see students and faculty transformed, campuses renewed and world-changers developed. Our vision at UCF is to grow a network of student communities that follow Jesus into every corner of campus, our city and the world.
Latter-Day Saint Student Association (LDSSA)
George Stoll
1375 Woodbury Rd.
Orlando, FL
321.210.5066
stollgp@ldschurch.org
The Latter-day Saint Student Association (LDSSA) is the student organization for The Church of Jesus Christ of Latter-day Saints on college and university campuses. We have Institute classes offered on campus during the day at UCF. Nighttime classes are offered at local meetinghouses. Please check our website at www.ldsces.org/orlandofor current information.
Reformed University Fellowship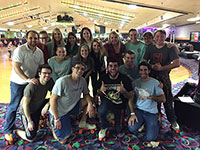 Hardy Reynolds, Campus Minister
hardy.reynolds@ruf.org
205-541-4078
Facebook: RUF @ UCF
Instagram: @rufucf
RUF is a campus ministry whose motto is "a perfect place for imperfect people." We strive to be a community where students at may come to receive rest and be challenged by the words of the Bible. "Reformed" simply means that we follow along the tradition of the Protestant Reformation with a reliance upon the Bible, God, and faith in Jesus is our hope. We meet Tuesday evenings beginning September 1st at 8 PM for our large group meetings on campus.
SHIFT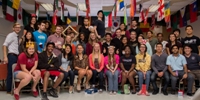 Nate Claiborne
shiftorlando@gmail.com
www.shiftorlando.com
We love Jesus. We love His Church. We love His Word. We love His mission. We desire to see God raise up a new generation of people bringing them from death to life, opening their eyes to a great and holy God and turning them away from a sinful self-centered life, rescuing them from their empty hopes and misplaced trusts, healing them of their brokenness and pain, and captivating their hearts for God's own renown – to bring His story of redemption and forgiveness and renewal to all cultures and to all peoples.
SHIFT's 3 E's :: Embrace the Gospel. Equip thru the Church. Engage culture.
SHIFT's Mission is to see college students
respond and be transformed by the Gospel;
engage in Biblical community through worshipping and serving with a local church in the area;
share the Gospel with others in a way that's relevant to their culture; and
lead others to do the same.
Join us.
Check out our Facebook page and get involved! https://www.facebook.com/SHIFTorlando
Follow us on Twitter: https://twitter.com/ShiftOrlando
Receive our latest SHIFT texting updates on mtgs, outreaches, events and fun days! Please text SHIFTUCF to (407) 901-5627 to join!
Wesley at UCF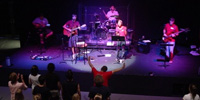 EpiCenter- University Carillon UMC
1375 Campus View Ct. Oviedo, FL 32765
407.588.1706
www.cflwesley.org (connect to our website for directions)
wesley.cfl@gmail.com
Who We Strive To Be At Wesley
We are:
a family of people who are empowered by fulfilling the great commandment, having a love for Jesus that invades and impacts every facet of our entire being
an army of radical lovers of Christ who wholeheartedly embrace Jesus' commission to go to all the nations, starting right here on the campuses of UCF, Seminole Community and Valencia Community Colleges
a house of prayer where healing occurs, strongholds are broken, and intimacy with Jesus is cultivated
a people of worship who embrace all forms of the arts as an expression of our love for Christ
Come Get Involved!
At the Wesley Foundation, you don't have to be a "Christian" to come. If you are searching for a place to fit in or just want to learn more about Jesus, you are more than welcome. There will be no pressure from anyone; you can come and be yourself.
Community Groups are the main focus of Wesley. They are small groups of college-aged persons that meet weekly for the purpose of building friendships, learning more about Jesus, and sharing life experiences.
We have a weekly worship service on Tuesday nights at 7:30pm, followed by a time of fellowship at our coffeehouse. During our time together, we pursue relationship with Jesus Christ and one another through music, teaching, and community. We meet in the EpiCenter at University Carillon United Methodist Church. We are located adjacent to campus on McCulloch Rd.
YoungLife
Tamra Roland, Ministry Leader
Young Life UCF